Davido quickly reacts to the viral video of ladies claiming he got one of them pregnant, threatens to sue them.
Earlier on, it was reported that two ladies made a video online claiming Davido got one pregnant. The video finally reached the singer and he promptly reacted to it.
Davido alleged that it was fake news and called it "Audio pregnancy"
The "Blow my mind" singer, however, didn't stop there. He revealed he would take legal actions against them as the two ladies would definitely go to jail.
He took to his twitter page and wrote;
"Y'all taking this clout chasing and social media shit too far!! Imma go to the end of the world and use all my power to make sure dem hoes end up in prison!!!!!"
He also threatened to sue both culprits of 30 billion Naira and offered 1 million Naira to whoever could lead him to the ladies.
See posts below;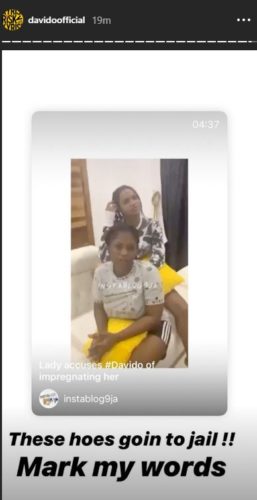 Now it seems this whole thing is a PR stunt pulled by both girls. What people do for clout!
If this is really a stunt, they went too far, and may have gotten themselves into a huge mess!!!.